One-Day Deep-Cleaning Projects: Bedroom, Bathroom & Kitchen
House in need of some TLC? Why not spend at least one day this weekend deep cleaning your home? Follow Molly Maid's deep cleaning guide to get the job done as quickly as possible, then enjoy the rest of your weekend (or upcoming week) with a clean home. Want to enjoy the weekend without the deep cleaning? No problem! Call the professionals at Molly Maid, a Neighborly company, now to connect directly with your local Molly Maid. Click here to request service in your area.
Bedroom: Pull bedding off the mattress and box spring, including bed skirt if applicable, and take to laundry room; start a load. If you have dry-clean-only items, or a bedspread too large for your washer, set aside to bring to cleaners.
Back in the bedroom, attach upholstery tool to vacuum. Vacuum top and sides of mattress, getting dust in crevices between mattress and bed frame. Rotate mattress 180 degrees. If you have an older mattress that requires flipping, enlist a helper and do so. Smelly mattresses also benefit from a sprinkling of baking soda vacuumed up 30 minutes later.
Dust nightstands and furniture with a damp cloth. Vacuum carpet or sweep and mop hard floors with appropriate product (1 gallon hot water mixed with 1 cup white distilled vinegar for tile or a dry mop for wood). Finally, remake bed with freshly laundered linens.
Bathroom: Pull all bath towels and mats and take to laundry room; start a load.
Back in the bathroom, fill a spray bottle with equal parts vinegar and hot water. Spray shower/tub walls and floor, plus toilet, then let sit. Fill another spray bottle with ¼ cup vinegar, ½ tsp. dishwashing soap and 2 cups water. Apply to mirrors, then wipe with paper towels. Apply the diluted vinegar to countertops and fixtures, then wipe with a cloth. Scrub shower/tub walls and floor, plus toilet, with a hard-bristle brush, then rinse. Sweep, then mop floor with appropriate product. Return freshly laundered towels and mats to their proper places.
Tip: To remove hard-water stains, soak paper towels in undiluted vinegar and place on buildup. Leave overnight, then scrub and rinse.
Kitchen: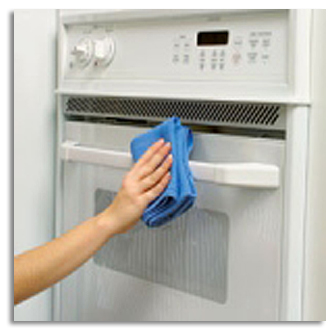 Pull all dishtowels and take to laundry room; start a load. Take any rugs outside to shake, then vacuum.
Remove all food from pantry and refrigerator, throwing out expired items as you go. Spray all surfaces, including exterior of fridge and pantry shelves, with diluted vinegar used in bathroom, then wipe with a cloth. Put back remaining items.
Place any stovetop burners in a sinkful of soapy hot water. Spray all countertops and appliances, both large and small, with diluted vinegar, then wipe with a cloth.
Pull any appliances you can away from wall, then sweep behind. Push back and sweep remaining floor area. Mop with appropriate product. Bring back freshly laundered dishtowels and vacuumed rugs.
Don't Forget:
Light fixtures, ceiling fans, blinds & cabinets — Dust with a damp cloth prior to performing chores in a room.
Oven — Run the self-cleaning cycle. Avoid fumes by setting the cycle and heading outside with any small children or pets.
Molly Maid, a Neighborly company, has many more helpful tips and checklists in our guide to spring cleaning.